pools-t Core Outcomes


Read this page through Wordlink
Subscribe to the project newsletter:
Pools-t (Producing Open Online Learning System - Tools) was approved for an EU grant in the period 2008-2010. POOLS-T was coordinated by "Syddansk Erhvervsskole Odense-Vejle", the development teams came from Denmark, Greece, the Netherlands, Scotland, and Switzerland.
The project developed tools for the CLIL methodology (Content and Language Integrated Learning) as well as a guide on how to apply the tools in a CLIL context.
The tools convert texts and web pages to html pages where all words are hyperlinked to free online dictionaries covering many combinations of European languages. The application has support for audio, video and graphics to enrich / support the text content.
Pools-t needs analysis: CLIL and LWUTL teachers depend on developing own resources (EURYDICE 2005 report "Key Data on Teaching Languages at School in Europe"). The proposed application will automate part of this process and will also enable students to convert authentic technical materials into language learning / supporting units.

The need for a free tool is based on EURYDICE 2006 "Content and Language Integrated Learning (CLIL) at School in Europe".

The need is also documented in the ICC report (2003) "The Impact of New Information Technologies and Internet on the Teaching of Foreign Languages.." concludes: "There will be a shift from passive consumption of ready-made programmes to independent building of content, tailor made for specifics groups or individuals".

Target groups: The project results and outputs are used by individual language learners, subject teachers using CLIL, and language teachers preparing online teaching materials.
Consortium: ODENSE TEKNISKE SKOLE (DK), EFVET (BE), ATHENA (EL), HORIZON COLLEGE (NL), SMO - SABHAL MÒR OSTAIG (UK), SUPSI (Switzerland) A Google Maps presentation

Back to Top
A manual on how to make use of the tools produced by the project in a CLIL based context can now be downloaded in:

Back to Top

Back to Top
Many language teachers and learners appreciate teaching materials that incorporate both written and spoken language. However, it has always seemed to be a more complex task to create sound files than text files. In recent times a number of attempts have been made to harness digital telephone technology to the purpose. One example is provided by www.ipadio.com
Gordon Wells has prepared a guide on how to use ipadio for voice and text blogging / phlogging. Download the guide in .doc format or in .pdf format
Gordon has started incorporating both audio (Ipadio) and video (YouTube) in the Island Voices project blog https://guthan.wordpress.com . This is a Wordpress platform, and has been created to record project progress, disseminate news, and encourage interaction with learners and teachers. (Creating a Wordpress account is a similarly painless process as with Ipadio.) In two recent posts Gordon has highlighted and previewed one of the topics for the new series of Island Voices videos.

In the first he interviewed a participant in Gaelic and English, using his telephone. This blog post about the interviews includes embedded links to both phonecasts:

https://guthan.wordpress.com/2010/02/19/local-language-teacher/

The following month he created another blog post, this time embedding the video.

https://guthan.wordpress.com/2010/03/24/buain-na-monadh-peatcutting/

Any or all of these webpages can, of course, also be linked to Wordlink and Multidict to allow instant online dictionary access. Possible language learning uses are immediately evident.

Back to Top
Multidict is a one entry combination of +128 dictionaries. Multidict has been developed by Caoimhín Ó Donnaíle at Sabhal Mòr Ostaig
Try you new favourite dictionary here

Back to Top
Wordlink a website from where you can convert web pages to pages that appear like the original, but with all words linked to an online dictionary. From WordLink you can also compose your own WebPages with all words linked to dictionaries, or you can upload a local webpage and produce a new page linked word by word to dictionaries.
Caoimhín Ó Donnaíle, SMO developed the browser based tool "Wordlink" with functionality like "Babelfish" (see the website babelfish.altavista.com or Google.com/language_tools?hl=en), i.e. a web based application which can convert web pages to pages where all words (like the outputs from the desktop application) are linked to online dictionaries. The resulting webpage will word by word be linked to online dictionaries (i.e. not just translated)
The program source for Wordlink is CopyLeft and may be improved, modified, reprogrammed, distributed, and used in any way you find suitable as long as new versions and derivates from the original are also CopyLeft

Back to Top
The "TextBlender" is a software which will automatically convert texts to web pages where all words have been linked to online dictionaries. The produced web pages can have graphics, video, and audio to enrich the content.

Back to Top
The "Online" version is launched in Internet Explorer (and probably also other browsers, N.B. only with Microsoft Operating Systems

Back to Top
DIY videos demonstrating what the TextBlender can do for you (temptation), how to make the webpages available on the Internet, how to use the TextBlender, some case stories with the TextBlender, and how to work with Hot Potatoes from installation to ready to use exercises.
The videos can also be ordered on DVD from ka@sde.dk

Back to Top
Several units below have been supplied by teachers from outside the pools-t partnership. Some units have been produced with older versions of the TextBlender (e.g. without split screen and only targeting a single dictionary)

Back to Top

Back to Top
The following material has been designed for vocational training courses for waiters/waitresses already employed or unemployed. The trainers can use the material to strengthen their knowledge and skills necessary for the profession and practice and learn English at the same time.

Back to Top

Back to Top
Gordon Wells has developed a suite of flexible self-teach/self-test English exercises suitable for CLIL, based on Island Voices video material.
The materials are designed to help English learners teach and test themselves. They are based on real situations, and reflect aspects of life and work in the Hebrides. Learners should already be at pre-intermediate level at least, and extension exercises are included which will also be appropriate for more advanced learners, who may or may not be working in groups.

There are four units of work. They are roughly in ascending order of difficulty, though each unit can stand on its own.

1. Re-Store Furniture Recycling Project
2. Craigard Day Centre
3. Hebridean Food: Cookery Demonstration
4. Hebridean Food: Smokehouse

Download a document, which explains the unit structure in more detail, and outlines how the graded exercises relate to Scottish Qualifications Authority certification levels.
Gordon Wells has also prepared 20 units for learning English and 20 units for learning Gaelic making use of a Wordpress blog combined with linking words to dictionaries through Wordlink. Try the 40 Wordlinked texts: https://guthan.wordpress.com/series-one/

Back to Top
Some units for learning English have not yet found a proper category. Please assist us with suggestons, e-mail ka@sde.dk

Back to Top

Back to Top

Back to Top

Back to Top

Back to Top

Back to Top
The newsletters below cover the period from the first methods project BP-BLTM to now. After the funded project period the Newsletters will be continued (as has been the case since BP-BLTM:-)

Back to Top
POOLS and POOLS-T was presented in Prague at the the Innovation and Creativity in the Lifelong Learning Programme conference. POOLS was awarded the silver medal in the category of "innovative outstanding European projects or actions which will serve as a good motivating example to wide public."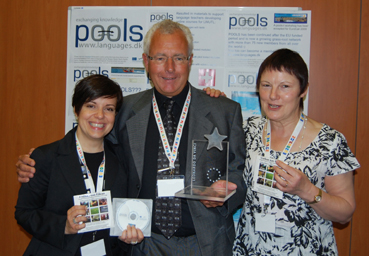 Roberta (pools-t project officer), Kent Andersen, and Alison Dix with the Leonardo da Vinci silver medal
SUPSI the Swiss POOLS-T member has translated the project brochure into German and Italian. The brochures were handed out in 50 copies during the the Innovation and Creativity in the Lifelong Learning Programme conference in Prague. Download the Italian version or the German version

Back to Top

This project has been funded with support from the European Commission. This publication [communication] reflects the views only of the author, and the Commission cannot be held responsible for any use which may be made of the information contained therein.